FOZZY's CHRIS JERICHO Explains 'Boombox' Album Title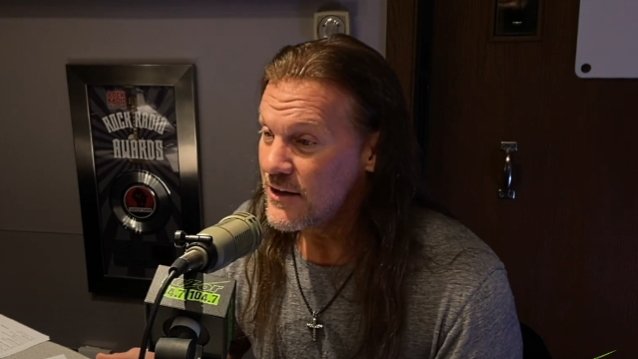 FOZZY frontman and wrestling superstar Chris Jericho spoke to Decker of Wisconsin's WZOR (Razor 94.7/104.7) radio station about the band's upcoming album, «Boombox», which is due on May 6. He said (as transcribed by BLABBERMOUTH.NET): «It definitely picks up where [2017's] 'Judas' left off. And 'Judas' was such a huge hit for us that we kind of wanted to continue in the same vein — very hooky, very melodic. The three-hook rule for most of the songs. It's an old DEF LEPPARD trick. 'Oh, that's the hook. No, wait — that's the hook. No, wait — that's the hook. Oh my gosh. It's stuck in my head like a fishing lure.' And it's heavy, but it still has that punch that FOZZY's always been known for. But we really like kind of — like I said — the melodic, hooky, radio side of it as well. So we're really excited about it.»
Regarding the «Boombox» album title, Jericho said: «I love the concept of 'Boombox'. The reason why we called it that is 'cause the last few records — 'Sin And Bones', 'Do You Wanna Start A War', 'Judas' — they're very dark titles, and when you come see us live, it's a very fun, upbeat show. And we wanted an album title that kind of brought that vibe. And boombox, if you had one, if you are old enough to have one, it was just a cool… That's how you used to listen to music back in the day; you put the cassette into the boombox and press play and it brings back a good time. If you don't know what a boombox is, you'll find out about it very quickly [when] you see the imagery. And it's kind of what FOZZY is as a band — we play songs that make you smile and put on shows that kind of bring on the same vibe like a boombox would've. Plus no one's ever called a record that before. So we just thought it really fits us and it's original and it's unique. The imagery is very cool. And everything kind of fell into place.»
FOZZY's has recorded five consecutive Top 20 singles, but fans across the world know that the benchmark was set high with the «Judas» title track. Reaching the Top 5 on the U.S. rock chart and boasting 55 million views on YouTube for the music video, the song has now achieved its biggest milestone yet — gold certification by the RIAA (Recording Industry Association Of America) for accumulating 500,000 certified units.
According to the RIAA, one equivalent song unit is equal to a single digital song sale, or 150 on-demand audio and/or video streams.
«Boombox», which includes the top 10 singles «Nowhere To Run» and «Sane», was once again produced by Johnny Andrews.
FOZZY's «Save The World» 2022 U.S. tour, featuring special guests GFM, KRASHKARMA and THE NOCTURNAL AFFAIR, kicked off on March 31 in Detroit, Michigan and will wrap on May 16 in Sauget, Illinois.
FOZZY debuted a brand new song, «Purifier», during its September 2021 concert in Flint, Michigan and has been performing it live ever since. Back in July 2021, FOZZY played another new song, «The Vulture Club», during its concert in Iowa City, Iowa. The band also performed its previous single, «Sane», live for the first time.
In May 2021, FOZZY dropped a video for its first new song in two years, the aforementioned «Sane», which hit one million views in its first two weeks. This first-of-its-kind video was filmed on the longest wooden roller coaster on the planet today.
In the summer of 2020, Chris revealed that FOZZY's next LP would contain 12 songs, including a cover of FRANKIE GOES TO HOLLYWOOD's «Relax».
FOZZY guitarist Rich Ward and Andrews once again did «the lion's share» of the songwriting for the new LP, which was recorded primarily in Atlanta, Georgia.
In addition to producing «Judas», Andrews previously co-wrote FOZZY's «Lights Go Out» track back in 2014. He has also written songs with the likes of ALL THAT REMAINS, THREE DAYS GRACE and HALESTORM.
In November 2020, FOZZY appeared in its first global live streaming event from Madison Studios in Atlanta, Georgia.
This past January, FOZZY parted ways with longtime drummer Frank Fontsere and replaced him with Grant Brooks (THROUGH FIRE).
Fontsere was a founding member of FOZZY, having formed the group in 1999 with Jericho and Ward.
When FOZZY announced Fontsere's departure, the band said that he was «stepping down to focus on his family and other projects.»
FOZZY is Chris Jericho (vocals), Rich Ward (guitars, vocals), Grant Brooks (drums), Billy Grey (guitars) and P.J. Farley (bass).
(Source: www.blabbermouth.net)